Today we are talking about five ways to upcycle your old furniture into something new. Sometimes all that takes is a little paint and glue, other occasions call for power tools and engineering. For simplicity's sake, in this post, we will hug the paint and glue wall.

1. One trend for kitchens and bathrooms is the use of furniture as storage. If you have a favorite piece that doesn't fit your lifestyle or is damaged in some way, consider upcycling. Transforming damaged into delightful will save you money, and get the creative juices flowing.

Taken literally, you can achieve this in your home by turning a bombe chest into a sink, for an example. Bombe chests are lovely by design, and what better way to enjoy one than using it every day.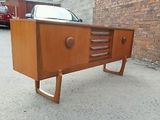 For help with transforming your bombe chest into something new and improved, take it to a cabinet maker or other custom woodworking shop and explain your idea. They should be able to cut and refurbish the piece to your new specifications, including making space for the bowl, plumbing pipes, and hardware. You can do all this yourself if you have the right tools, patience, and room to work.

2. Along those same lines is the repurposed chest of drawers that transforms into a kitchen island. Take an old chest of drawers, refinish or paint to your taste, attach wheels to the legs, and a butcher block to the top, and you now have a mobile kitchen island.

3. But don't toss the drawers that you removed from the chest, use them as under-the-bed storage units. Slide them under a bed for books or toys that are out of sight and out from under your feet. You can also affix wheels to the drawers themselves to easily move the new containers.

4. Now that music is mostly digital, we have CDs sitting around taking up space. Cut up old CDs and use them as you would use ceramic pieces on a table, platter, or picture frame. Take the small pieces and glue them, one at a time, onto the surface. Once the glue dries, coat the entire surface with an epoxy resin to prevent scratching yourself or the newly upcycled piece. The result is quite stunning. Texture, color, and uniqueness all in one item.

5. Reconfigure broken floor or table lamps into solar lights for outdoor lighting that pays for itself. Accomplish this by removing the wiring from the fixture, and attaching solar lamp heads in place of the light bulb mechanism. You can paint the base to match your patio decor, then use epoxy to hold the solar lights in place.

Let us know how you upcycle your furniture.